Bespoke Lab provides conference interpretation services in the context of international conferences and congresses, workshops, press conferences. Our interpreters boast not only a profile of high cultural and linguistic skills, both in the mother tongue and in the respective working languages, but also of in-depth knowledge in one or more disciplines such as law, economics, medicine, architecture, engineering and community policies.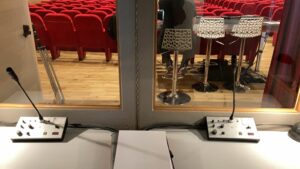 Interpretation of negotiations: ensures informal comprehension for small groups of people.
Simultaneous interpretation: is performed in soundproof booth with headphones and microphone.
Consecutive interpretation: is carried out in the physical presence of the interested parties. The interpreter listens to the speaker and translates it faithfully into the target language.
Whispered interpretation/or Chuchotage: is a simultaneous translation whispered into the ear of the listener , is made in physical presence without the use of interpreting equipment or technical supports.
(RSI – Remote Simultaneous Interpreting)
– Rental of interpreting equipment;
– Rental of booths, infrared headphones and microphones for simultaneous translation;
– Bidule equipment hire for visits to plants or factories.